Every week,
Tales of a Ranting Ginger
and
The Knit Wit
are kind enough to host a
Blog Hop
. The only catch is, apologies in advance to my readers from other countries, this one is only open to my fellow Canucks.If you're a Canadian blogger please feel free to join in the fun: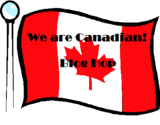 I'm also trying to get this week's GBE post done before True Blood. But if I don't, I'm sure you'll understand that a date with even the kinder, gentler Eric Northman is too important to pass up.